Honest, expressive and determined, these are the words that would best describe Josephine Baán. Getting second place in the BlueDot design competition while simultaneously hopping along with Spring Trip and creating artwork out of over 700 empty toilet rolls, she has been a busy bee the past couple of months.
by Report ID

Originally coming from the Erasmiaans College in Rotterdam, Josephine Baán started her life in Delft at mechanical engineering but left after realising she wanted to create beautiful things. Now she's in her second year of the Strategic Product Design master and back in Rotterdam after having explored Delft and many more places like Melbourne during her minor. Currently she's living in a house filled with creative people who make their own clothing, which she conveniently picked up along the way, she gets to use the creative skills that she thought lacked in SPD in other hobbies like painting, tailoring and sculpting.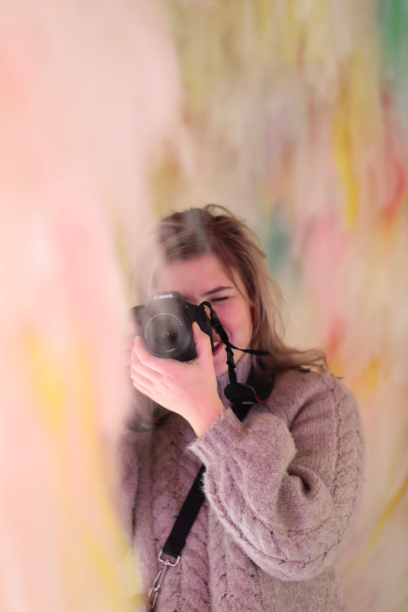 Entering the BlueDot design competition, Josephine knew what she was getting into. Having organised it herself two years prior, she had a feeling for the process, the theme being Calmness in chaos. This being a fitting topic regarding phone usage and the 24/7 connected society we live in, she decided she wanted to switch up the angle at which designers approach this problem. Not wanting to go the more common "app" route to reduce screen time, she brainstormed into the pressure and stress of time. Out of this she got the idea of a product that was supposed to help reduce time-related stress.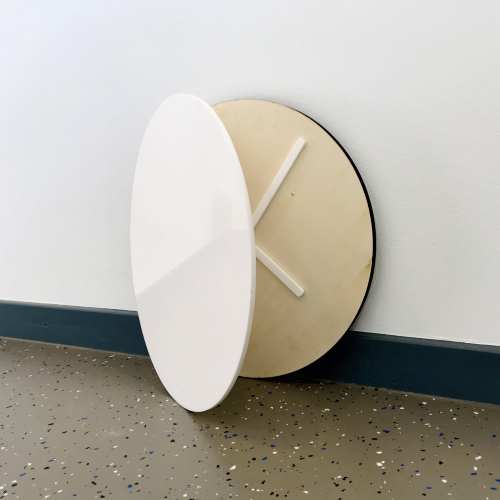 The end result was a clock where an angle ensures that the time is mostly hidden through a comparable round shape. For Josephine, typically very expressive, this design was very "calm" and minimalistic. Her mother (usually a fan of "simple" design) was really happy Josephine finally designed something she really likes, indicating the different style. Design a product that was supposed to help reduce time-related stress.
In the near future, Josephine wishes to enter more contests to stay challenged and creative next to her Strategic Product Design master. Also, she is just naturally very competitive. She would like to do a joint master project. After that, she hopes to do an internship at the Kunsthal or theatre in Rotterdam.