Add to Google Calendar
BURGER CINEMA
This week is the burger cinema week. Everyday at 20:00, we will stream a design movie, watch it together with us and join us in the IDiscord Burger Cinema channel to discuss these design movies.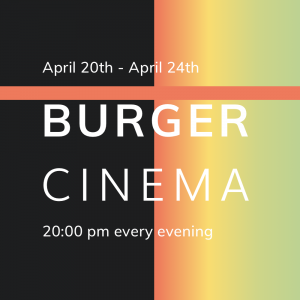 Monday 20|4 20:00
Minimalism Created by known minimalist and filmmaker Matt d'Avella, this documentary serves as an introduction to minimalism and the minimalist lifestyle. What are the important things in life and how can you be happy with less? An easy starter for the Burger Cinema week to cleanse your palette.
Tuesday 21|4 20:00
The Creative brain How and why do humans create? In a surprisingly non scientific way, neuroscientist David Eagleman explores the creativity of our brains with people from very different fields of work. Creativity is apparent in more of our lives than most people suspect.
Wednesday 22|4 20:00
Lego House – Home of the Brick In Billund, Denmark, a nearly 130,000-square-foot house inspired by the iconic LEGO bricks is constructed, capturing the awe of kids of all ages. Bring out your inner child in this documentary that follows the construction of the LEGO house itself, as well as exploring the history of the LEGO company.
Thursday 23|4 20:00
The September Issue Follow the Vogue team led by Editor in Chief Anna Wintour through making the September 2007 issue of the magazine that weighed in at more than 2 kilo's. A movie about the harsh fashion industry and the story of a powerful woman at the top of it. 
Friday 24|4 20:00
Objectified What can we learn about who we are, and who we want to be, from the objects with which we surround ourselves? This documentary is about our complex relationship with manufactured objects and, by extension, the people who design them.
On bit.ly/IDiscord more info will follow about how to evening itself will be.
IDE ACADEMY POINTS
You get an IDE Academy point if you participate in 3 or more movies (and discussions) on IDiscord and join Ianus' lunch on May 1st! For IDE Academy, no enrollment needed, but you have to communicate through IDiscord before/during the session to Ianus who you are (full name and study number), so he will have an overview and can keep track of who was actually there.
STREAMING THE MOVIE
The stream is simple to use, but still, don't wait until 20 o'clock to install discord and figure out how it works.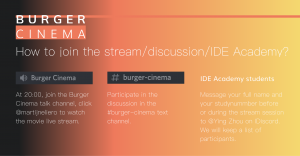 WHAT IS BURGER?
Since the field of Industrial Design is very broad and it also keeps broaden itself, we often ask ourselves: 'what can I do with my IDE knowledge later?' 
Therefore we organized 'Burger'. This name refers to the dutch word 'Burger': when you are not a student anymore, you will become a 'citizen'. And the fact that your knowledge pack is assembled by yourself, for yourself. Since each burger can be customized so easily by your own taste.
Since the COVID-19 pandemic, we have been working on the transformation of our offline community to an online community. Burger online is part of this transformation. Burger online is a 2 weeks event from April 20th to May 1st. The first week is called 'Burger Cinema'. During this week, we will watch a design movie every evening at 20:00, discussing the movie on IDiscord in real-time. The second week is 'Keep up with the Designers'. During this week, you will learn about a different designer every day. This designer will tell you about his or her 'road to design' and 'QuaranTime' during COVID-19. 
Bringing people together is important during this time and 'Burger' will give designers and design students a platform to interact and connect.
We hope to see you then!