In these trying times, we all have to miss our days at the university. Walking through the faculty, Wednesdays in ID Kafee and following lectures in the halls. To lighten your pain and to give you the warm feeling of IO back and bring it into your own living room, we will be posting a story about a place on the faculty every month. This way you will know more about the faculty when we are allowed to come back!
The most used lecture hall, the one we all know, is the Joost van der Grinten Hall. Joost used to study Architecture, before IO existed. During this time, he was already being creative by writing poetry, sculpting, making music and acting. He recalls that studying Architecture was "a walk in the park" and he picked up all of these creative hobbies because of the spare time he had.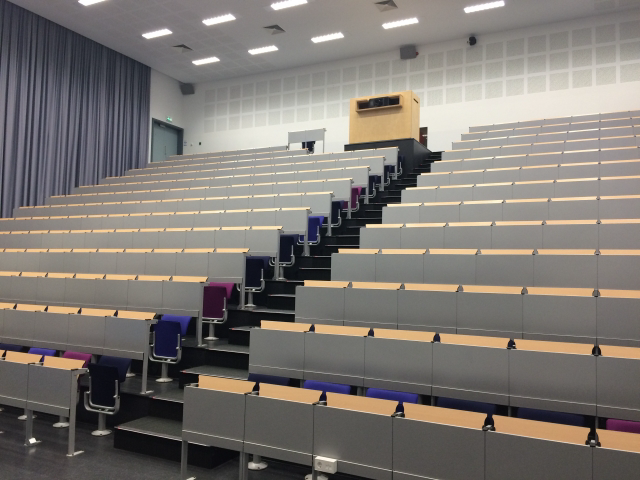 When he eventually graduated in 1953, he became an architect at the Environmental Design office, which he had founded while studying Architecture. A year later, he won the Prix de Rome, an incentive award for artists and architects set in The Netherlands by Napoleon Bonaparte in 1807. Only nine years after his graduation, he started working on a new project: Industrial Design Engineering. What started as an assignment at the Architecture faculty where he was given the task to shed light on industrial design and materials, later became the reason why Joost was promoted to professor in 1962 when Industrial Design (no "Engineering" yet) was founded.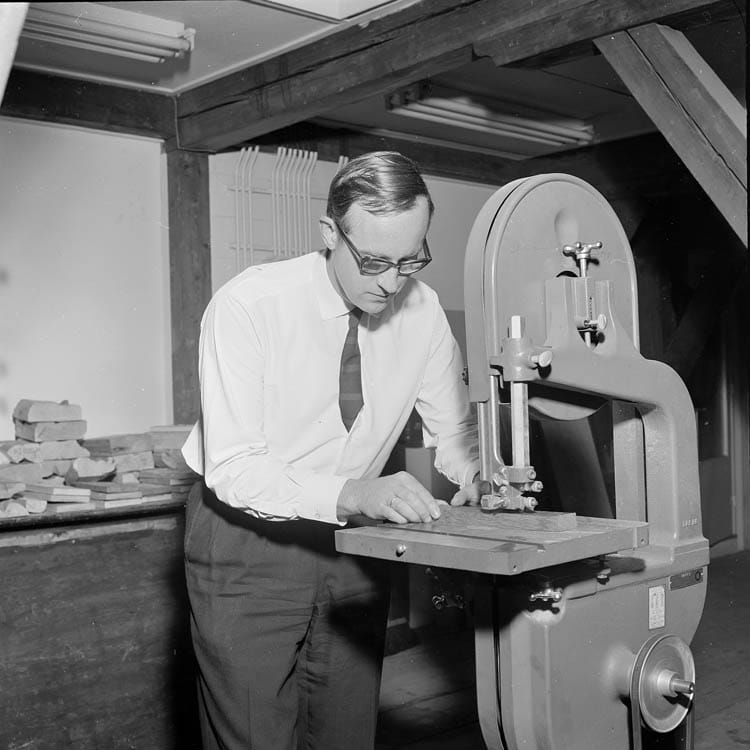 Founding IDE and being the very first professor of our faculty, Joost taught for 9 years: working two days at the TU and three days as a partner at the Environmental Design office. In these 9 years he educated, among others, another industrial designer which we've all probably heard of as well, by the name of Norbert Roozenburg. In 1971 Joost realised that "he wasn't a designer" and started pursuing another passion of his which was building violins and selling old ones (coincidentally, this was also the year that Roozenburg graduated). He also resigned at his architectural bureau, because the way architectural work had shaped up in those times was too cosmetic for Joost. At the time he was 45 years old and recalled:
"You could call this decision a mid-life crisis, but if this is a mid-life crisis I'd recommend it to anyone!"

Joost van der Grinten
After three years of learning the violin building craft, Joost started his own shop together with his wife out of their home is Amersfoort. For 20 years they made violins and other bowed instruments, at some point even having three other violin builders as employees but still being seen as an amateur in his colleagues' eyes. After those 20 years of creating violins, selling them and managing his store, Joost resigned in 1993 and left the shop (which was now running quite well) to the hands of a successor to run.
Looking back, Joost has been asked his opinion about what IDE has become and his accomplishments over the years. Firstly he mentions that "everything was an adventure, it was all new and had to be thought of and created." He also says that they "didn't want to train people to be managers, but to be real designers." Later on managing and the theoretical & academic skills became more important and as Joost said he didn't want it too much of this, he still mentions that:
"Dutch design isn't too bad right now."

Joost van der Grinten
In regards to his career, he recalls some of his favourite projects were the ones where he had the opportunity to really focus on the details in his designs like a home he designed in Hilversum and a watermill in Rotterdam. He does mention that he also really enjoyed designing a bigger project like Hoog Catharijne in Utrecht. Last but not least he states that founding IDE is on of his careers greatest accomplishments.
While we see him as one of the most important persons for our own faculty, he himself was quite modest about it. He once said, "I've never become "big" in anything, not a great architect, not a great designer and not a great violin maker." This will definitely not change the way we will see Joost van der Grinten, and admire him for his input in Industrial Design Engineering
| Written by Report ID | Bron JOOST: Eger, A. O. (2004). Van het eerste uur. Grondleggers van de faculteit Industrieel Ontwerpen.