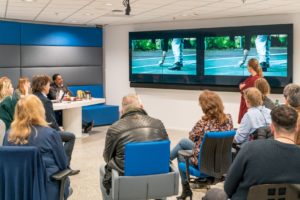 Do you desire working on large societal issues? Such as how do you keep the city clean? How can we innovate the controversial New Year's Eve bonfire tradition? Team iD (innovatie en Dienstverlening) is a center of excellence regarding Service Design, Design Thinking and User Experience which aims to improve the lives of the Hague's citizens.
We are looking for Dutch speaking Design Master students from any direction who have an entrepreneurial mindset and are ready to be challenged. We operate similar to an internal Service Design Consultancy for many departments within the municipality of the Hague, a large public organization with over 8000 employees who serve over 500.000 citizens. Our team is young, fast growing and driven to contribute to a more human-centered organization.
As a Service Design Consultant Intern you will get many opportunities to contribute to this mission and learn on the job. So, are you ready to develop your design research capabilities? Gather great insights and capture them in journeys, blueprints, persona's or whatever tells the story best? Eager to prepare and host co-creative sessions to redesign journeys, websites, products, call center scripts or whatever solves the problem? And do you want to do all this while working on large societal issues for and with the people of the Hague? Societal challenges such as how to facilitate a smooth energy transition, how to create the best environment for entrepreneurs and many more? Then we are looking for you!
If you now feel a burning desire to join our team, please send your motivational letter, resume and portfolio if you have one ready to tibbe.titulaer@denhaag.nl.