Mobile Application Developer (Intern)
Mindsigns Health™ develops secure cloud-based products to improve brain health, improve the patient journey and empower the doctor-patient relationship. We are growing our team both in Singapore and outside Singapore and are looking for people interested in making an impact through their work.
Although we are based in Singapore, remote work from a location outside of Singapore (e.g., Netherlands) is possible. In fact, some of the team members are based in the Netherlands.
The applicant will have the opportunity to work with clinicians and patients on healthcare issues leveraging technology and software solutions to bridge the care gap as well as provide a more equitable access to care.
We are flexible in terms of remote work. We offer an attractive incentive program, healthcare benefits, flat structure where all team members contribute and have a voice.
We are looking for a mobile application developer for the Singapore team to contribute to the design and development of software applications in mental health under a disciplined product development process that meets healthcare regulatory requirements.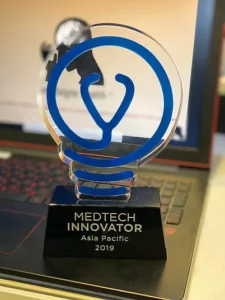 Job Description:
Developing and updating Mindsigns Health™ cloud based mental health software applications based on clinical requirements and existing architecture.
The application will interact with the company's proprietary AI algorithms to process the data of patients and doctors that use the application.
Coordinate with the mental health team and report to Mindsigns' lead development engineer.
Work with our data protection and security team to ensure that we continue to conform to HIPAA, GDPR, PDPA and ISO27000 and other requirements.
You will be expected to contribute to the scaling up of the application deployments as we grow our user base internationally and develop new mental health indications.
Requirements:
Experience in a major programming language
Experience with Web & mobile applications and cloud services (AWS)
Frontend and backend development with JavaScript, Python, php
Prior experience with the following will be considered as a plus:
SQL & NoSQL databases such as MongoDB, PostgreSQL
Docker microservices.
REACT native and NodeJS
Expected Start Date: 31/01/2022 or as dictated by notice period of candidate
Are you interested?
Please contact:
Dr. Justin Dauwels
CSO & co-founder Mindsigns Health justin.d@mindsignshealth.com