Add to Google Calendar
Excited? Curious? But not a lot of time on your hands? You can also sign up for just one (or two) of the case days by clicking here! Please note that you will not receive any ECTs for this. Bachelor students are very welcome!
Cases on Tour is going live again! On the 26th, 27th and 28th of May we will take you on an adventure, solving three different cases for three different companies. You are asked to apply your design skills to tackle these problems and to create value for the company. To do so, we have booked some beautiful locations for you to work at, in a safe and creative way. If you are a master student that has not participated in Cases on Tour before, you also receive 2 ECTS!
Teams
Of course you don't have to do that alone. During the days we will provide you with a team. A team consists of 3-4 people, it depends on the case, and is a nice blend between the different masters of IDE. In that way, you will learn from each other and you can get to know new people. 
Schedule
Cases on Tour functions like a sprint. You will work on a different case every day. In the morning, you get provided with the right information from the company you are working for, and at the end of the day you will shortly present your concept to the client. You will be fully occupied during the three days, so you might have to make some arrangements for your other courses.  
This is what a case day looks like: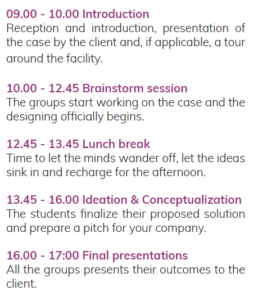 Locations
Wednesday:  RDM Next 'De Loft', Rotterdam
Thursday & Friday: Lijm & Cultuur Delft
Please note that we act strictly to the government and TU Delft guidelines. These locations allow is to keep a safe distance at all times!
Companies 
This years companies are… *pampampam*: NPO, Visual Contracts and Havas Lemz!
Important to note
By signing up you are not automatically admitted. On May 19 you will be informed if you are selected to participate!
For the case on May 26, there is an online preparation session that is mandatory to attend when participating. This session will be held two times (May 21, 12:45-13-45 and May 25, 12:45-13:45). You will be appointed to one of these sessions so make sure you can attend.
The location for Wednesday (May 26) is in Rotterdam, which could mean for you that the travel time is longer. Please make sure that you think about how to get there.
Participating is free and lunch on the case days is included 🙂
Still some questions?
Reach out to us via e-mail: casesontour-svid@tudelft.nl 
Signup for the full event is closed. If you still want to participate, please send an email to casesontour-svid@tudelft.nl before Monday May 24 20:00!